1U integrated USB keyboard/mouse tray - fits any rack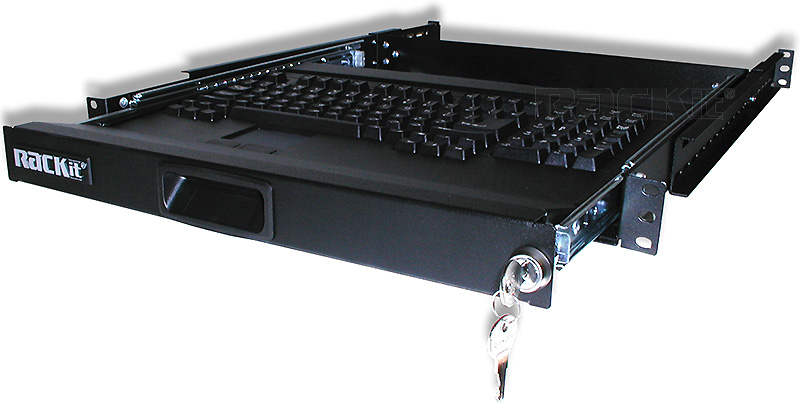 No more orphan, dangling keyboard and mouse in your rack!
Rackit's KR rack-mount keyboard/mouse tray integrates a full-size 104-key Windows keyboard with a 2-button USB touch-pad into a sturdy, low profile rack-mountable tray that can be installed in any 4-post or 2-post IT equipment rack.
Occupying only one rack-space (1U), the keyboard and touch-pad mouse simply slide out when needed, pushed back in (and locked) when you want it out of the way.
KR4 rack-mount keyboard/mouse tray model supports 4-post-mounting and gets installed into any 19" standard 4-post server rack supporting installation depths up to 36 inches.

One of the most robust pull-out keyboard/mouse trays on the market, Rackit's KR rack-mount keyboard/mouse tray features a sleek design, a steel construction with a durable black powder-coat finish and heavy-duty ball bearing slides, all covered by Rackit's 1-year limited warranty.
19" rack-mount keyboard/mouse drawer
Slim 1U design
Lockable
104-key Windows USB keyboard
Integrated 2 button USB touchpad
1U heavy-duty steel construction with lock-out ball bearing slides
4-post-mounting with rear mounting brackets adjustable for 20" to 36" depth
Durable black powder-coat finish
Made in the USA
KVM Switch, Server Rack, LAN management cables, KVM Switches, rackmount, computer rack