Adjusting to the depth of your equipment and supporting intensive cable-management, new Servit KX open 4-post equipment racks feature rails with either square holes or pre-tapped #12-24 holes
---
December 24, 2019


Rackit® Technology Corporation today introduced Servit™ KX, adding more features to its array of racks providing easy equipment-access for installers and network administrators.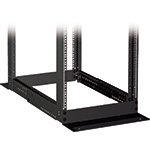 New, heavy-duty Servit™ KX depth-adjustable open 4-post equipment racks support a load of 1000 lb along with the versatility of adjusting to the depth of your equipment.
Servit KX allows you to adjust the depth of the rack to the depth of your equipment. Such depth-adjustment gets done in the field during setup in 1-inch increments, up to a maximum depth of 36 inches.
Featuring toe-in or toe-out footprint, Servit KX racks support 45U of rack-mounting space, with the option of ganging racks together or networking them with Rackit Standard Relay Racks.
Available with mounting rails featuring either universal (square) holes or pre-tapped #12-24 holes, Servit KX racks are UL listed and ship knocked-down with UPS/FedEx ready for on-site setup.
Contact your Rackit sales representative for further information or sales support, and ask about Rackit's life-time warranty on Rackit's racks and rack-accessories.