A new heavy-duty wall-mount open communication rack with a front swinging gate, Wallit™ Swinger 150 offers outstanding front and rear access to cables and mounted equipment, with built-in provisions for optional RackiTie cable straps for securing ca
---
October 14, 2019


Rackit® Technology Corporation today introduced Wallit™ Swinger 150, adding more features to its array of racks providing easy equipment-access for installers and network administrators.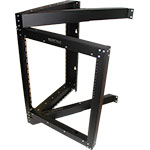 New, heavy-duty Wallit Swinger 150 wall-mount racks support a load of 150 lb along with the versatility of a swinging gate.
While supporting standard 19-inch IT and telecommunication equipment, Wallit Swinger 150 is designed to get mounted of the wall with mounting holes spaces 16-inches on center to align with the studs in your wall.
Wallit Swinger 150's front swinging gate can swing out either to left or to the right, providing easy access to the back of installed equipment, making it easy to terminate CATx cables onto an installed patch-panel or maintaining other equipment connections.
Supporting real-world experience, Wallit Swinger 150's front swinging gate features a positive 90º stop that makes installation easy and does not impose extra strain on cables and connections.
Contact your Rackit sales representative for further information or sales support, and ask about Rackit's life-time warranty on Rackit's racks and rack-accessories.